... means more than putting up a For Sale sign in the front yard.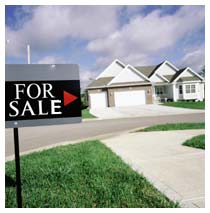 Getting the most for your house or property means more than putting up a For Sale sign. In a market place like the Greater Binghamton area, you need your listing to stand out and be seen, and sometimes in a variety of places. And because you never know where that buyer will come from, you'll want the help of a professional.
As a Seller's Agent and as part of my multi-point marketing plan, I will complete a thorough market analysis of your house or property to determine the best and most effective pricing strategy for today's market. That strategy is to generate a price that will encourage competing offers that will raise the final value of your sale. Then, when we prepare to market your listing, I'll tailor a marketing plan that fits your property. And those are just the first two steps.
Make sure that your home is seen and sells without complications. Make sure you give yourself the opportunity to get the highest and best market value in the shortest possible time. Get sound advice and the backing of a solid company. The decision you make could be the difference between not selling and the equity you are looking for.
Don't just have your house on the market... GET IN THE MARKET. Call, Text or Email Bob today at (607) 759-4760 or email BPoto@ExitNYS.com. And don't forget...
Real Estate is about more than room sizes, colors and features... it's about your life and dreams.
Call me today!